We are seeing a lot of violence in Haryana's Nuh and Gurgaon since Monday when some anti-social elements tried to stop a religious yatra. Since then, the matter is more escalating. Today we will tell you the triggers of this violence and the government's actions to handle them.
The Triggers Behind Haryana, Nuh, Gurgaon Violence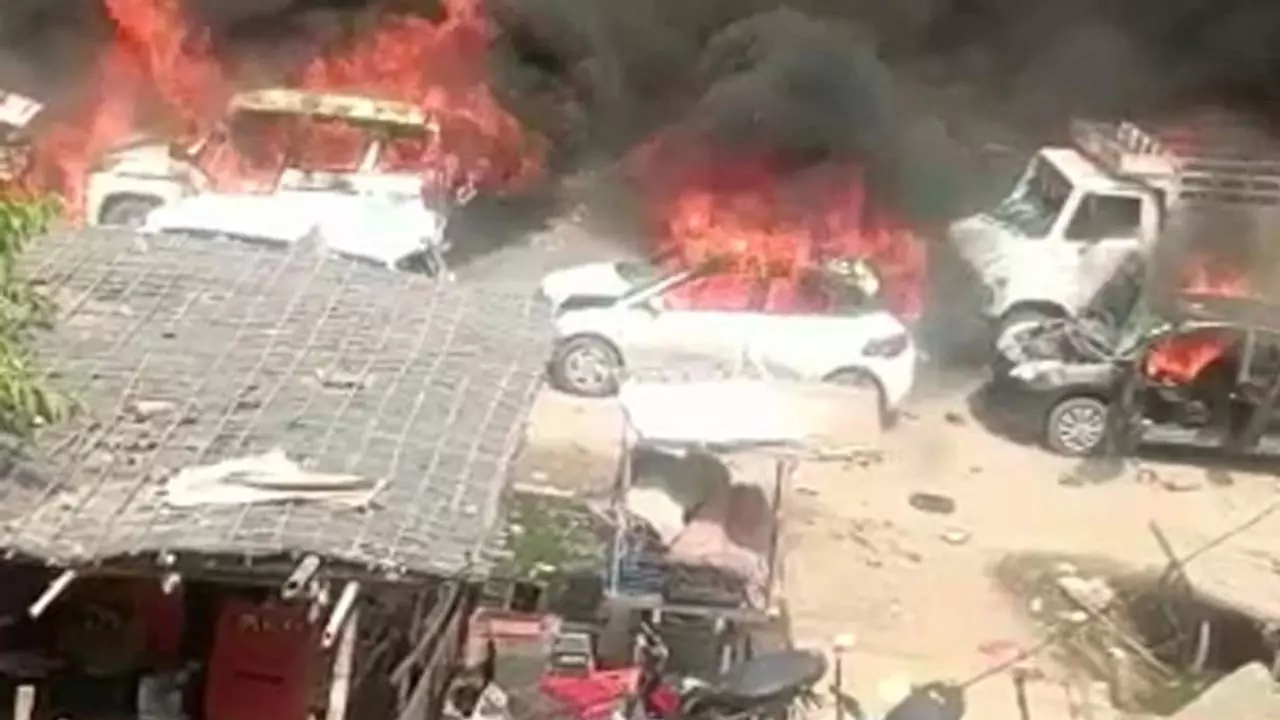 Read Also: 16 Killed in Crane Collapse in Maharashtra on Under-Construction Expressway.
Bajrang Dal, Vishwa Hindu Parishad, and Matrishakti Durgavahini have organized a religious yatra. Still, some anti-social elements tried to stop it by throwing stones and petrol bombs and sticks at the participants of this yatra when it was going towards the Shiv temple in Nalhar, Nuh.
As per reports, due to this violence in Nuh and Gurgaon, two home guards have been reported dead and identified as Gursevak and Neeraj, and there are also reports of 200 injured people and burning vehicles in 100 quantities. So what lead to this destructive violence? Let's understate.
As per the police officials, the violence started after 10 minutes when a religious march of 200 people around 02:00 pm started to move from Edward Chowk in Nuh town. And suddenly, a group of mobs started throwing rocks at the yatra. However, after some time, they ran, and the Hindu group again regrouped for their yatra.
Police officials have said there were rumors that Monu Manesar will also join this religious yatra. Monu was a member of Bajrang Dal and a cow vigilante, accused of killing 2 Muslims in February, whose bodies were found in a four-wheeler in the Bhiwani district.
During a video on social media, Monu Manesar, a wanted criminal for a double murder case, has been seen saying that he will be joining the march and that people should also come together to join this religious yatra. However, Monu Manesar has not taken part in the yatra because VHP said that it would raise conflicts, and also he has received various threats on Twitter which dared him to come to Nuh.
Let's learn about the sequence of the actions of Nuh Violence.
On 01 August 2023, the violence escalated to Gurgaon, where a mosque was vandalized, and a cleric was killed.
Both districts have imposed a curfew to manage the situation between the communities.
Social media has played a vital role in fueling the violence, so the internet has been suspended in Nuh and the Faridabad district.
After the news of the violence in the Nuh district, dominated by the Muslim community, people in the Sohna area of Gurgaon have stoned and set fire to four cars. Also, they set up a store on fire owned by a member of the same community.
Section 144 has been imposed in Gurugram and Faridabad, and schools and colleges will remain closed until the situation is handled.
Police have arrested 80 people till now in these clashes.
After the fresh violence in Gurgaon on Tuesday, Delhi has been set on alert.
On 02 August 2023, a plea has also been filed in the supreme court, requesting the court to give the order to cancel the rallies that the VHP and Bajrang Dal have scheduled for Delhi NCR.
However, on Wednesday, The supreme Court ordered that the rallies can go on, but these should be fully video graphed.
Till now, six people have died due to the communal clashes in Haryana.
VHP and Bajrang Dal are organizing rallies and protests against these in Delhi and other cities of UP.
On 02 August 2023, Motorcycle-borne assailants hurled Molotov cocktails at two mosques in Taurur of Nuh District of Haryana.
According to the official data, six people have died, 116 have been arrested, and 90 have been detained.
To get more out of our exclusive news, Follow us on Facebook and Instagram.