A food blogger from China has been fined $18,500, around 1,25,000 yuan, for eating a White Shark and violating the Wildlife Animal Protection Law of China. It has been reported that the food blogger was a girl and had illegally bought a prohibited shark species – The Great White Shark. The blogger has cut the shark into pieces barbecue and ate over a live video. She has gone viral over this a lot.
Chinese Food Blogger Illegally Bought The Great White Shark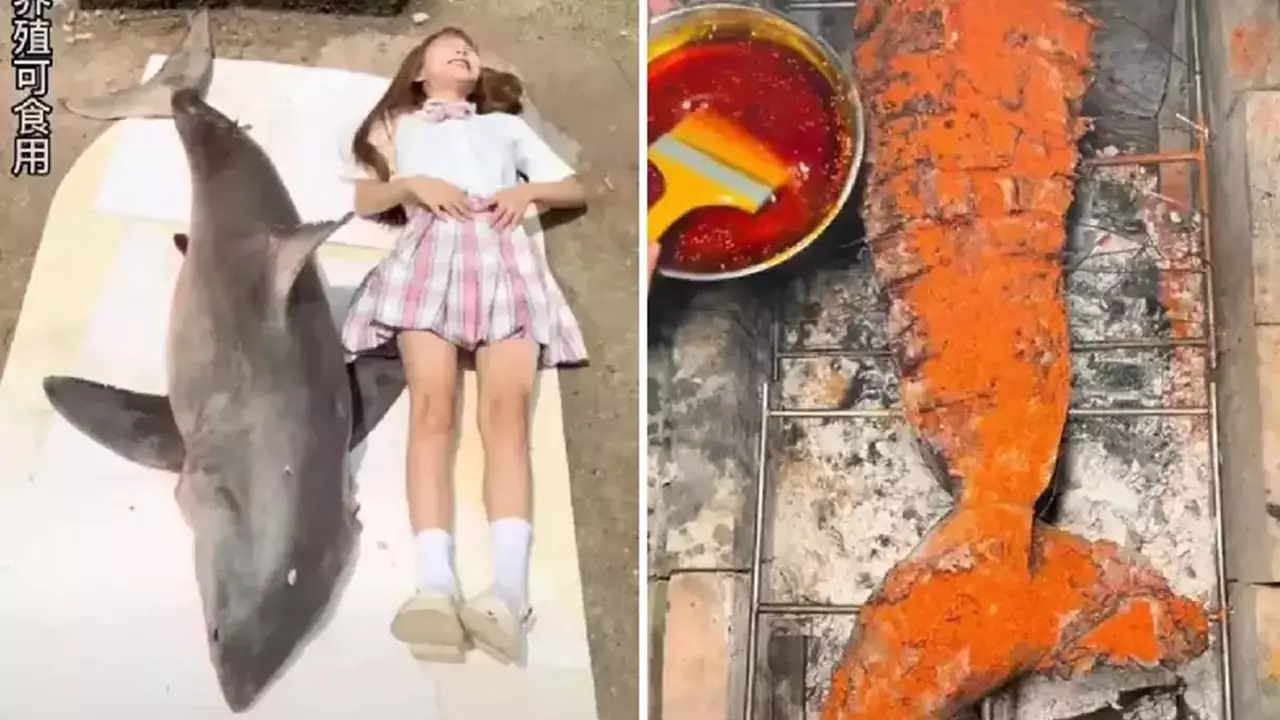 Read Also: Penguin Poop Footage From Space Leads Scientists to Hidden Penguin Colony
The food blogger, famous online with the name of Tizi, has been identified as Jin Moumou. The officials reported that Jin purchased that shark in April last year, and then later on, she posted a video of baking and eating the shark in July 2022. She has posted the video on various social media channels and gained millions of views because of that video of eating a great white shark.
Eating Great White Sharks violates the "Wild Animal Protection law" of China, and even possessing a shark is also a crime in the Republic of China. A person can be imprisoned for up to 10 years for having the Giant White Shark.
Tizi Made A Video Of Slicing, Barbecuing the White Shark
The viral social media video shows Jin posing with the 6 Feet shark and then slicing the shark into two pieces and how she barbecued the shark and then cooked the head in a broth. Tizi further said while eating the barbecue that the shark may look vicious but very delicious.
The official further reported that Tizi was able to purchase the White Shark from the online shopping site Alibaba's Taobao. DNA reports have proved that the shark belonged to the rare species of Great Shark, which is prohibited to trade or eat in China and comes against the Wild Animal Protection Law.
Officials arrested two more individuals for catching and trading the rare white shark. Police have started investigating the case after discovering the viral video from the channel of the food blogger.
China has listed the Great white shark as a vulnerable species and banned it from catching, buying, and selling since February 2020. The ban was imposed at the start of the COVID pandemic as scientists have warned to prohibit animal use as various experiments were running on animals in China, leading to deadly viruses like the coronavirus.
So after seeing the video, what was your first reaction, and how do you think we should take care of these vulnerable species?