Live Rat Found in Bread Packet – Online apps and websites have helped the world not only ease work but also save time so that we can focus on much more critical work. But what will be your reaction if you find a rat in your grocery? It has been reported that a user experienced the worst nightmare of his life when he ordered a bread packet from an online delivery service, "Blinkit."
Live Rat Found in Bread Packet Delivered By Blinkit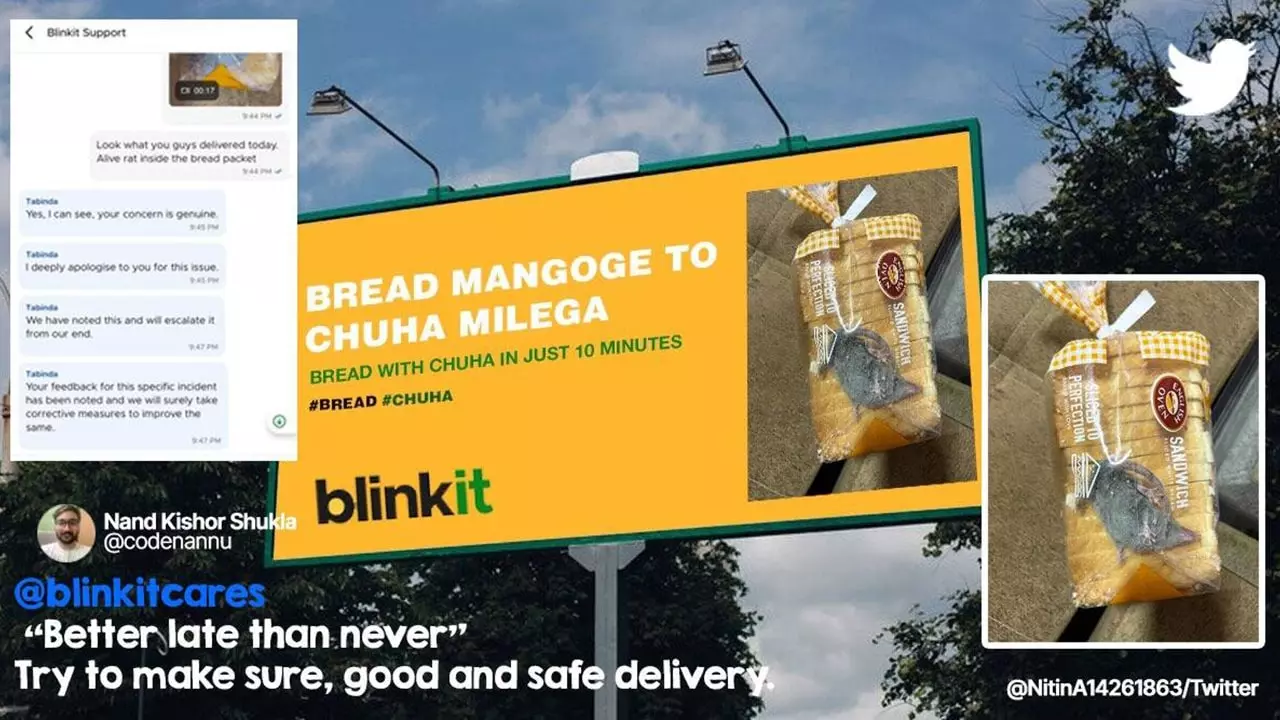 Read Also: Akshay Shah accuses Shark Tank India judges of ghosting after securing a deal.
The user was identified as Nitin Arora, who ordered a bread packet from the instant delivery app to do his work easily but remained shocked and unpleasant for the rest of his life. Further, the user mentioned on Twitter that "I have got the most unpleased experience of my life with the instant delivery app Blinkit, where he received a live rat inside a bread packet around 01 February 2023. Further said that I would rather wait for hours if I have to get these types of services for instant delivery."
Further, Nitin has added the screenshot of his conversation with Blinkit, where the company assures him that they are investigating the incident further and are sorry for the inconvenience.
After this incident became viral, many Twitter users also reacted by sharing their personal experiences. One Twitter user said, "They don't have time to clean the pack of chips before delivery! Zepto is better nowadays. At least I never faced any issues with them."
Further, another Twitter user has targeted Blinkit on this incident of live rat and said, "As much as #EnglishOven and #Blinkit need to explain this. I wonder if our food safety authority audits these places from time to time and checks for "Safety."
Further, one more Twitter user said, "I also faced a similar issue 3 months back… I received the food items from Blinkit, which smelled very bad. And did not get any support from Customer service, then I decided not to purchase any food items from Blinkit."
One user seemed confused about this incident of live rat in a bread packet, asked for clarification, and said, "I have a few questions 1) How can a rat survive so long? he would've easily escaped from the packet by cutting it 2) When the bread was packed in the company, Nobody saw him? Not the shopkeeper or delivery guy? It's a big allegation, and I guess this needs to be investigated thoroughly."
It has been said that the issues were escalated urgently, but it is still unclear how Blinkit compensates Nitin's emotional sentiments.
But what should have been done against these types of incidents? We see many similar incidents daily, such as some vegetarians getting non veg foods. Do these companies have no time to improve their checking and packing services, or do they want to earn as much as possible?
Please feel free to share your view on how these things can be managed and improved for the future so that one gets their sentiments hurt.