Pakistan is known for its terrorist activities and for giving space to various terrorist groups. Still, today, the country is again in highlight because of a viral video on social media showing how impolite Pakistan PM Shehbaz Sharif is.
Pakistan PM Snatches Umbrella and Leaving Woman Official in Rain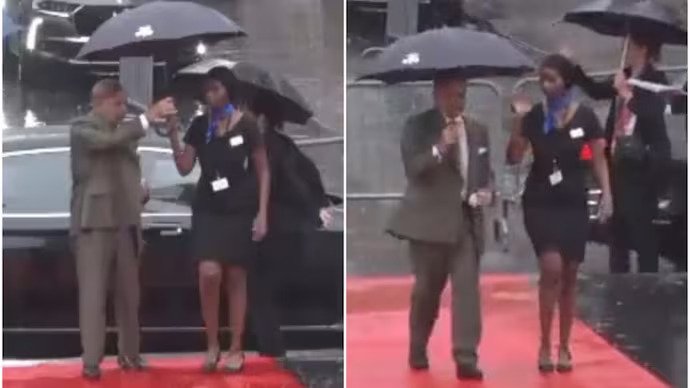 Read Also: Tesla CEO Elon Musk: "I am a Fan of PM Modi and His Vision for India"
As per the viral video, Pakistani PM Shahbaz Sharif, who is on his France visit, has been seen snatching an umbrella from a woman official who was escorting him and leaving that woman official in the rain. After the video of leaving the woman official in the rain by snatching an umbrella from her, people started trolling Shehbaz Sharif and his country. Some call him "impolite," while others call him a "national embarrassment."
The incident occurred during his France visit at the two-day New Global Financing Pact Summit. The viral video shows Pakistan PM Shehbaz Sharif arriving at Palais Brogniart, where a protocol officer was waiting for him with an umbrella because of the rain. Sharif said something to her, took the woman's umbrella, and left her drenched in the rain.
He didn't even bother to think about that woman. However, you would not believe who posted that video online. It was the Pakistan Prime Minister's Office Twitter handle through which the video was publicized. It means even the Pakistani official has not realized the mistake of their PM, and they don't have any morals. However, Pakistan has faced criticism since the video was posted on Twitter.
To get more out of our exclusive news, Follow us on Facebook and Instagram.