A mysterious species of blind catfish that lives in the deep dark underground has been found in Indian groundwater. The catfish is of blood red color and 3 cm in length and lives in aquifers having low oxygen and nutrients.
Blind Catfish Discovered In India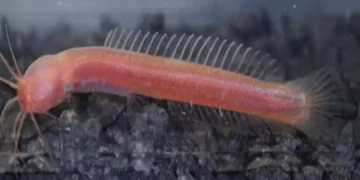 Read Also: "Monkey Mermaid" Mystery – Japanese Scientists Solve the Mystery of the Mummified Hybrid.
Scientists further reported that the blind catfish lives underground without surface or light. It has also been discovered that this is a mysterious species of catfish that are blind, lacks pigments, and has a genetic diversity that evolved over 1 million years. And came over the surface only when digging or cleaning any domestic well.
After discovering this mysterious catfish, scientists teamed up with locals. They started search operations at wells and underground water sources such as shallow wetlands, home gardens, water channels, and plantations. And it took a time of 6 years to study these types of species.
Scientists further thanked the locals and said without them, it would not be possible to study the species, and they also helped a lot in naming the species. Further, they said these locals can help them in their fast scientific research as they first get in contact with these types of mysterious things.
If you also have seen any mysterious species, please share them with our readers.